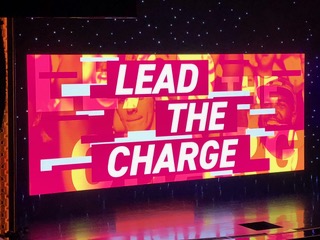 Recap of the Magento Imagine 2018 #LeadTheCharge or #RightThisWay
The Magento Imagine 2018 (April 23-25) is over now. I hope this conference will remain unforgotten. And to do so, I wrote my recap of the #MagentoImagine 2018
---
The first sign I followed at the #MagentoImagine this year was this: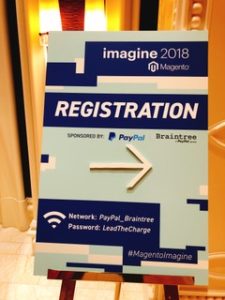 I was a bit confused because I searched for an orange sing and I almost missed seeing the registration sign because of his color. But – thank goodness –  I remembered the way to the registration from the last year.
To find one's way in the Wynn is like riding a bike. Once learned, never forgotten. (Show-off alert).
I guess that EVERYONE at the Imagine is asking himself the same question, each year  again:
What's the best way to the Imagine rooms in the Wynn? The left or the right floor?

Maybe that's a good question for a poll. I'm very interested in the result of this survey. Anyone?
Sometimes we don't have to decide which way was right or the best. There were a collection of people with signs in their hands wich showed us the right way.
#RightThisWay
The moment I saw these sings I knew I have to get one. So I told a man with a sign in his hands, that I need to get one of these signs. He only smiled. Nice-Joke-Smile. Okay. I didn't make it clear. The second one I asked a bit more clearly: "Can I get your sign?" He smiled (a bit fearful). Okay. These people can't help me. I need to ask Magento:
How can I get one of these signs? 😋😛😘 #magentoimagine #ignoringSuitcaseWarnings pic.twitter.com/83nJ3EjxAH

— Carmen (Miss Magenta) (@neoshops) 24. April 2018
But I guess no one took this seriously.
But this all happened after my #RoadToImagine ends. This year I travelled to Las Vegas via New York. I didn't checked the weather forecast very consistent.  So I was totally wrong dressed wherever I was. I would have been perfectly dressed for temperatures about 20 degrees. In New York I needed to buy a wollen cap!
Lead The Charge
This years mantra of the Magento Imagine was: "Lead the charge". I guess this is a kind of typical saying. I wasn't exactly sure what it means, so I asked my synonym machine:
https://www.powerthesaurus.org/lead_the_charge/synonyms
Ahhh. One of the synonyms is: "going the extra mile".
That's easy. Walking an extramile is exactly what everyone does during the conference.
My miles:
04/23: 17.500 steps (12.7 k)
04/24: 26.800 steps (20 k)
04/25: 19.500 steps (14 k)
04/26: 15.600 steps (11.5 k)
I leaded the charge!
Leading the charge also means: "be not ready to rest". That's also easy. If you don't spend your time at the conference, there are partys, THE strip and the Stripburger bar…
PreImagine2018
The first party was the #PreImagine2018. First drinks, first hellohellohello to well or less well known people. First swag collections on the table. First heat (outside), cold (inside) and shock (the moment you switched between inside and outside).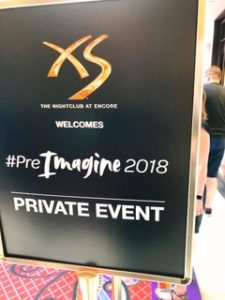 The Master Thing
Next day the conference starts. Nearly really.
Another synonym for lead the charge is: "do more than usual". That's a good heading for the Magento Masters breakfast in the morning of the first conference day.
(Off-topic alert): I really was asked (a bit to often in the meantime) why I am a Magento Master instead of X or Y or Z. "Ask Sherrie" may be a good answer. A better answer is a question in return "What do you think?". But maybe I can use my own blog to make one thing clear if this questions is still over someones head:
Everything I do and did (for the community) I did in my spare time.
I don't earn any money for what I'm doing. I'm not employed, so I also don't earn money while I'm doing community things. I don't get paid when I organize an event or a meetup.
Neither the board members of the Firegento e.V. (a german Magento Community Association) are paid for their work.
Everything I do comes from my conviction that it make sense or people happy (including me). There is no "big goal". I don't do anything intentional to become a Master. But I'm honored and proud get this award afterwards.
I'd like to bring people together or to encourage someone (particularly women) to join the community. And it would be really great if something I did could motivate  for example a female developer to become visible – in the community, on stage, during meetups, whereever.
And all this community work in summary really takes a lot of time , but I get so much in return from so many people.
And if you consider all these masters, every one is a very special person. I don't think that anyone of them is interested in being a master because of "monetary advantages".  I'd like to pay a big compliment to Sherrie. I don't think it's easy to pick out 20 people in a crowd of hundreds.
They all lead the charge because they did something more than usual. And they do something else: (and this is another synonym): "not to rest on one's oars"
I'm awarded as a Master for the second time. It is an honor. And one of the best thing of being a Master is to get a different view on Magento or this conference.
As a #MagentoMasters I get the chance to have a different view in many ways. Thanks @magento @benmarks @sherrierohde for this opportunity #magentoimagine pic.twitter.com/CUl7YLFsqX

— Carmen (Miss Magenta) (@neoshops) 24. April 2018
And not to forget the baggage inspection because of the award inside.
The Master of Ceremonies
Still talking about this conference means to talk about Phillip Jackson.
The Master of Ceremonies in 2018. I'm REALLY jealous because he could took the elevator to get one stage. MORE THAN ONE TIME. And the questions that remains is:
Were there also someone with a right-this-way-sign in his hands UNDER the stage?
My brain is not suitable to remember faces. (A good point at this point: sorry to everyone I forgot.) For that reason I really forgot that Philip Jackson had more weight than today. I raise one's hat for his sensational lost and also for the courage and the coolness not to use the tele prompter. Speaking without notes is not easy – above all in this situation. On that big stage in front of so many people. Phil is over all very pleasant. And I like his hair.
Hats Hats Hats
After that great first day the second party took place. Including the Magento hat theme. There were some great hats, but Danille had the most beautiful hat!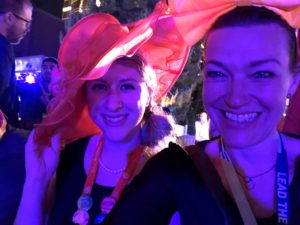 What's new?
Second conference day. Time to LEAD THE CHARGE, or "make a greater effort". In that blog case: make an effort to become a bit more "substantial" about the insights and announcements at such an conference.
There will be more blogs that will summarize these news much better than me. And much more detailed. But I can reveal the following:
The new features of Magento 2.3:
Page Builder
GraphQL
Two Factor Authentication
Instant Purchase
Google reCAPTCHA
Cache Management ACL
Import/Export improvements
Package Versioning
WYSIWYG Update
Multi Source Inventory (MSI)
PHP 7.2 Support
Message queue moved to Open Source
Elasticsearch Updates (now available for the CE).
Upgrade Patches
Asynchronous Web API
A lot of these featueres are contributed by the community.
More news?
The Meet Magento Association becomes the Magento Association (but I still don't know what this means…).
There will be a Magento PWA Studio (for developers).
There will be an new Community Insider Program. A chance for smaller agencies or feelancer like me to get have access to Commerce code, marketing assistance and training.
Also on day two the Magento Masters were awarded:
I couldn't possibly be more thankful for this crew and what they contribute to help us all move forward together with @magento. 🙌 #MagentoMasters #MagentoImagine pic.twitter.com/CC5grRbIXy

— Sherrie Rohde (@sherrierohde) 25. April 2018
To be honest, after the announcement I didn't recognize very much. I had a very kind interview with two very professional video guys. I'm very curious about the result.
The "speaker" Jamie Foxx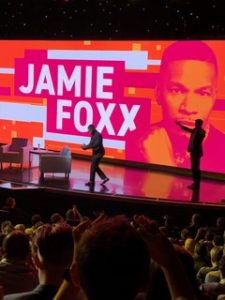 On day two Jamie Foxx was on stage. As a Keynote Speaker. But can we really say "Speaker"? Maybe better "Performer"? Me and my german colleagues  didn't understand very much. Not only because of his very fast spoken english, also because of his local jokes. Very much seems to be "insider" informations. But this all was irrelevant. Because of the audience. This was the first time, most of the people only used their mobiles for taking pictures. And watching _Talesh was much more funny than watching Jamie Foxx himself.
Sessions & LLamas
On that day the best session took place. In my opinion. "What's new in Magento 2.3". The room was full. Maybe because the title of the session didn't mentioned, that this was a talk for developers. Olga Kopylova spoke fast and clear and very focused. I cannot imagine that it's possible to provide more informations in that time. Big applause.
But also other sessions were very great:
On that day another question raised:
how many Llamas were brought to the Magento Imagine by Classy Llama (@classyllama)?
The same procedure as every year: Llamas are a kind of currency. If you get more than one you are rich. And many kinds all over the world are happy when there parents are back home. I really love all these elephant and Llama picutures on twitter. Here is mine:
United! (And please be aware of the underground) #roadFromImagine #lama #MagentoImagine //cc .@classyllama pic.twitter.com/Xr3I5q2Pn7

— Carmen (Miss Magenta) (@neoshops) 27. April 2018
Legendary party
The traditional – and so called "legendary" party starts after the keynote on day two. With the rest of Jamie Foxx smiles on their face the croud followed the right-here-signs to the Encore party space.
I didn't know, that they served gin. So I get lost. And had a really good time…
I didn't find out, what motto they choosed for the party this year. But I didn't asked and searched very forceful. Nonetheless, I'll be very grateful if someone could tell me…
The last day
On day three traditional the number of attendees is falling and it was easy to get a seat in the Encore theater during the keynote.
Some of the attendees were smarter than others. They left the keynote a bit earlier to get enough lunch.
It's been a bit hard this year at the Imagine to get enough food. The moment we found the food stations, we didn't found plates or cutlery. Or the lunch has been over bevor we recocnized it. Maybe that's not an Imgine-thing, but a Claudia-thing – and the reason why she's that thin. So if you want to loose weight: follow Claudia…
On the afternoon the last session started. DevExchange. I sat on the table with the sign "Event organization", together with Jennifer Garcia and many more. This has been a very intensiv discussion. Beside new knowledge I earned the knowledge about that everybody has the same problems. We all want to bring people together, but we don't know how to reach more people – and we don't know why people are not attending community events.
After that:
I GOT MY SIGN!!!
@magento any chance to get a right-this-way sign as a souvenir? #MagentoImagine (I'm atill at @WynnLasVegas #devExchange) pic.twitter.com/kLnMQitWDD

— Carmen (Miss Magenta) (@neoshops) 25. April 2018
Thanks Magento, Sherrie and Brittany ! At this moment it "sits" besides me and shows me the way…
Without any context, at least I leave these words and pictures here:
Lead the charge may also mean: "leave no stone unturned".
One of the best parts of the Magento Imagine is the Whatsup group. Everything that happens is a kind of subtitled – in a very special way. I laughed so much!
If someone wants to celebrate more community (advertising alert): join the MageUnconference in October in Cologne. Tweets with the hashtag #RightThisWay are winning a random discount between 10% and 90% of the regular ticket price….
How many pictures were taken of Marc Lavelle?
Andrea Ward should wear Converse and Shirts every day. She never looked better than in this dress on stage.
I laughed a lot about the "Einbahnstraßen" stories of _Talesh and Fabian. Today is a "Brückentag". Maybe something similar. I don't know if "bridge days" are a typical german thing. Or "Übergangsjacken".
On every conference I get to know someone new. At this conference I'm very grateful to had a good time with Boris  and Martin
And one last thought: in Germany there is a saying "Der Fisch stinkt vom Kopf".  "The fish always stinks from the head downwards". I don't know if this is also a saying in other countries. The meaning is: a company is only as good as the weakest link in the chain. Or: A company can only be as good as its management. Magento has an incredible number of motivated, friendly and active employees. I really didn't met anyone I don't like.
In such sense, this quote is too good not to be the famous last blog words:
Ben Marks says:
"the community is my boss"