2016 – the Magento 2 year in review or: a year with Tracey and Ben
==> Deutsche Version


"Actually."
All statements that are of tremendous importance but are intended to convey their meaning in a milder way begin with "actually".
Not in this case.
Actually, I wanted to describe the past Magento year with the aid of Ben Mark's flight route and trace the path on a map of the world – in the hope of creating a really nice drawing at the end.
Because actually, you just have to follow Ben Marks to know what is going on in the Magento world – the Magento 2 world in particular.
However, I don't have his flight details, so I follow Twitter, Facebook and last year's event calendar a bit and at the end I pass on my impressions of what has been going on with all the expectations and questions over the course of a Magento 2 year.
Ben visits the events, and Tracey visits the cities. Tracey knows later on, for example, what Stockholm looks like; Ben knows what the Magentos in Stockholm look like, although the same faces always reappear. Thus, Ben knows later how many Germans were in Stockholm, and Tracey knows that Stockholm is not German. Nobody scribbles his flight paths on maps, but Ben writes notes in (digital) notebooks about all the Magento 2 feedback he receives. Tracey is supposed to scribble all over postcards and collect them, which I'm sure is also very impressive.
So I am flying through the Magento year, the year in which Ben and Tracey have already flown, and encountering them here and there, again and again. Scribbling.
"Magento is Everywhere, So I Am Too!" Ben Marks blogged – and I don't know whether it would not be more correct to say the opposite…
For anybody who doesn't yet know who Ben is: Ben travels around to answer questions about Magento – wherever they appear (in other words: worldwide). He then writes down in his digital notebook what people gripe at or ask, so he can pass it on to Magento, and in turn he passes on to those who are asking what he can/may/is supposed to pass on from Magento Inc. in the way of answers. So he is a sort of Magento Hermes, a messenger or an interface between doing, asking and balancing, whereas I am still undecided as to who the people are and who the gods are.
And for anybody who does not yet know who Tracey is: She flies hundreds of thousands of miles with Ben. While Ben sees the convention carpets, she sees the cities. She appears or disappears, she is there or she isn't, she gets involved or she just listens a little. To me, she seems completely relaxed (maybe you have to be as a pilot), unbiased and interested in everything, regardless of what and who she comes across (even if they accidentally knock over a beer glass in her direction).


JANUARY
MageStackDay takes place in January – on the 4th, if I am not mistaken. Because of http://magento.stackexchange.com/, everybody knows Marius and it is also only logical that he is one of the four who keep MageStackDay alive: Sander, Anna, David and Marius. They do what Magento has not been able to do with its own internal forum: push for long-lasting and high-quality exchange. For this, they were honoured with a trophy on which "Magento Master 2016" is written, for their work as "Mentors". I find this worthy of a short round of applause (my new favorite applause for online sessions: keyboard clattering. So could everybody please press and release, press and release the space bar…) For those who also want to take part, the next one will take place at the beginning of February.
http://magestackday.com/
If you think back to just before the year began and what I am writing here, Magento 2 has echoed "Hello World!" and 2016 is therefore one thing primarily: a very exciting year for Magento 2.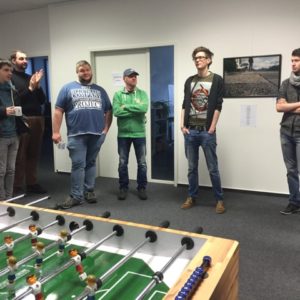 Two noteworthy things happened in January (or three, if you include Ben's birthday):
Magento 2.0.1 (followed by 2.0.2 just a week later) and the first Magento 2 Hackathon. This took place in Paderborn. What could I write about this Hackathon to best describe it? Maybe that at the end of the weekend, everybody had installed Magento 2… Everybody exchanged greetings with one another and at the end some were frustrated, some were motivated and others still busy gathering questions.


FEBRUARY
If Ben was at Magento Live in France, then Tracey will probably have seen Paris. Shortly after, they will have flown to the Meet Magento Italy, where Ben talked about what he does all year ("The Care and Feeding of Magento Developers"), while Tracey probably had a look around Milan. But they probably weren't at the Mage Titans Italy. Ben had the time to write the following article, which anybody who feels they aren't up to Magento 2 should read – "in Magento 2 I am a babe in the woods".
http://bhmarks.com/blog/the-imposters-slide/
MARCH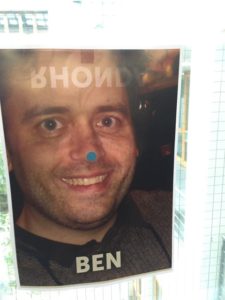 Ben and Tracey flew to Berlin in March, to the MageUnconference. Here, Magento 2 was also an ongoing theme full of questions and Ben would have certainly found it difficult to face all the questions, as lots of frustration and uncertainty could be felt amongst the developers. At some points, so many negative undertones could be felt that they had entirely the opposite effect and resulted in a positive undertone. Gathering these impressions and at the same time answering as many questions as possible about the targets and current status of Magento 2 – while not seeming stupid and then getting together with Tracey later on that evening to meet friends – is a noble art. Even worthy of a quick round of applause. Please start clattering on your keyboards…
There were also three Meet Magento events in March. Sweden. So Ben and Tracey flew to Stockholm, and then flew over Ukraine to eventually land in Prague for the Meet Magento Czech.
And what did Magento do?
Issued Magento CE 2.0.4.
APRIL
IT took place in April. THE conference. Big. Bigger. The biggest. Imagine Commerce Las Vegas. And just so that we all know how BIG it is, Magic Johnson was there too. And Ben and Tracey as well, of course. with "We are Magento", the community was verbally hugged and with the Magento Masters it became somewhat more significant. At this point, there were already 800 Magento 2 installations – on-site, at least. And Magento Marketplace opened its doors. A new cloud experiment began with the Magento Enterprise Cloud Edition and Magento 2.1 was announced as a new feature release for June, which brought up new questions – so what does the new Magento 2 mean for B2B…?
Upcoming Magento 2.1 release announced by @ProductPaul #MagentoImagine pic.twitter.com/JNZLe6gy70

— Andreas von Studnitz (@avstudnitz) 13. April 2016
Only one other event dared otherwise to compete against the Imagine giants in April. The Developers Paradise in Croatia. Summer Edition. There was lots to do with Magento 2 here as well. And who else was there? (Keyboard clattering) yes, Ben Marks. Just like in Berlin at the Unconference, he gathered feelings about Magento 2 from the world of developers. What don't people like? What do they like? What do people expect? What do people hate by now? I assume he was able to note down a lot here as well…
Also in April: Ben and Tracey celebrated their 8th wedding anniversary (start clattering…).
MAY
In May, there was a cozy meeting for Developers only. The Mage Titans Mini in Manchester. Unfortunately, I don't know a lot about it, apart from that Ben was there and there was a lot of discussion about Magento 2.
The Meet Magento Netherlands traditionally takes place in May in the lovely city of Utrecht. Not without Ben – that goes without saying. And not without all manner of Magento 2 sessions. Unfortunately, I wasn't there this year.
And Magento?
2.0.6…
JUNE
At last, Magento 2.1.0 is out. Only the Enterprise users get staging and preview functions as well as Elasticsearch integration. Otherwise, there is nothing really new to list, but a great deal of troubleshooting and tidying up, which must not be neglected and I don't want to say anything bad, because it appears as though the issues gathered from the community were thoroughly taken on board. But it is worth scribbling something down anyway. And for those who don't believe me and maybe want a bit of infinite scrolling, scroll here:
http://devdocs.magento.com/guides/v2.1/release-notes/ReleaseNotes2.1.0CE.html
Also in June: Meet Magento Serbia, MageStackDay #5 und Magento Live UK in London.
JULY
July belonged to Germany. The Hackathon in Leipzig with subsequent Meet Magento Germany. Or the other way round: The Meet Magento Germany starting off with the Hackathon. Wonderfully warm, the outdoor Moritzbastei, a new (great) location for the Meet Magento with hammocks. I had my #MageBike from Leipzig to Halle, which I would love to do again, only with a getCollection(), sort of.


AUGUST
The release notes for CE 2.1.1 are significantly shorter:
http://devdocs.magento.com/guides/v2.1/release-notes/ReleaseNotes2.1.1CE.html
Ben traveled to the Meet Magento Indonesia.
Vacation everywhere.
SEPTEMBER
In September, the Mage Titans met in Austin. I may not like flying at all, but I find it wonderful to be going somewhere. I would love to have been there. Needless to say, Ben was there. Here, every speaker specified their own 'what sort of a developer are you' title, such as "Magento Master", "Software Engineer" and "Expert" und Ben called himself "Long-Time Magento Developer". Quite rightly…
My first contact with Ben was the video about Magento 1, "Fundamentals of Development", which I actually (remember, all important statements begin with actually) wanted to see, shortly before I did my test to become a certified developer. But I was too sick and worn-out because of my fever to follow him, so I tried to lip-dub him (that didn't work very well) and count the amount of times he cracked his neck and fingers (it worked repeatedly, but only up to a maximum of 12). Once my fever reached 39 degrees, I could only see the colors of the shirts. Still, I passed the test – but not because of the shirts he and Tracey might buy in all the countries they visit, maybe matching conference carpets or stage colors, after which you can say in Leipzig, for example: "Today, he is wearing Toronto".
Also in September: Meet Magento Belgium and Meet Magento Poland.
OCTOBER
2.1.2 published and now supporting MySQL 5.7 (if you've got it, flaunt it).
http://devdocs.magento.com/guides/v2.1/release-notes/ReleaseNotes2.1.2CE.html
I guess this must have been one of months with the most airmiles. In October, there are all kinds of Meet Magentos: New York, Vietnam, Argentina, Greece, Spain, Romania.
The first Dutch MageUnconference was held in October. Unfortunately, I was sick in 2016, so I couldn't be there, although I summoned summer temperatures for one of those days and they were delivered. It must have been great and I am delighted that it will continue next year.
NOVEMBER
Further events took place in November, which I would have liked to visit. Meet Magento Australia (because it was in Australia), Meet Magento Japan (because it was in Japan), Mage Titans UK (because Andreas von Studnitz said I had to be there) and then Bargento Paris (maybe to follow up on the question of why @jacquesbh doesn't follow me on Twitter).
In November, Magento 2 celebrated its birthday. A candle can be lit and blown out. However, instead of lighting candles, a round of applause on the keyboard will do: press and release, press and release. I gave Magento a limerick for its birthday, and those who don't know it can savor it now:
It started 2008
open source is great
developed by real geeks
in more than 30 weeks
it became my fate#RealMagento #hbday #Limerick #magento

— Miss Magenta (@neoshops) 18. November 2016
DECEMBER
NOTHING GOING ON.
But because we all know that nothing doesn't mean nothing, because everything has its value, my absolute favorite Magento end-of-year trip to the Christmas market in Aachen for a cup of mulled wine took place in December. This year Tracie and Ben were with us too and because they went sightseeing in Aachen they now both know a lot about the several fountains in Aachen
The Meet Magento World was also planned in December. But in all honesty, I don't know what became of it and where in the world Ben and Tracey were at this point in time.
The Firegento members met before Christmas to plan the next community year. Because I can type with 10 fingers, I was kindly selected again to be a member of the committee and I can call myself "Secretary" for another year.
So many I forgot to mention – the first thought that comes to mind: new paths (Tobi and Anna), I started to play Threes, Anna exceeded 2000 follower, once again the "Webguys-Adventskalender", I won't mention Trump, howeverPokemon Go, I finally managed to login into my Prometric account (this was more difficult than the certification itself) AND "She's pregnant" (not Tracey).


Conclusion: THE FIRST YEAR WITH Magento 2
If you look at "Magento" in Google Trends, things go downhill slightly, but the numbers are constant. Magento 2 was added in November 2015 as a search term and is naturally becoming increasingly interesting.

Considering the reactions to Magento 2, I would name uncertainty as the first "attribute" that can be felt. Was Magento 2 thrown onto the market too soon? Maybe it wasn't yet advanced? Should the Community Edition stay or disappear in the long run?
The path to the future seems unclear. The question: Is familiarization with Magento 2 worth it from a developer's point of view? The question of alternatives has been discussed quite a lot – but nobody was really able to point to a competitor and say "I'll take that one instead". (And to be honest: nobody really wants to say that).
As well as inquiries about new Magento 2 projects, questions about whether I could take over messed-up Magento 2 projects are slowly trickling in.
But that is nothing new. Agencies and store operators who took on Magento 1 are vast in numbers and are now following those who offered Magento 2 a little too euphorically.
I still feel a large amount of uncertainty as well. When will people say "yes" to Magento 2? The less individualized, the more Magento 2. I currently answer Magento 2 questions with these words.
This uncertainty about using Magento 2 is actually amazing, somehow. Should we not foster a sublime basic trust that a player as large as Magento, which has issued such a successful – and still good, in find – system, will issue a new system that is also good? Should we not all believe that the changeover will be worth it? That familiarization will be worth it? What does this unbelievably large skepticism mean?
Magento 2 is supposed to be technologically better, and everything in terms of security, performance and maintenance looks great. But maybe it was too early to throw it on the market, because it has been raining bugs and stories of failure. And the release notes for Magento 2.1 speak for themselves. Uncertainty, incalculability of expenses and costs for agencies and store operators are a prevailing theme.
I state again and again that although it is logical, the name "Magento 2" requires a great deal of explanation, because store operators who use "Magento 1" always want an "update", then stare in horror at the costs when hearing the response "new construction". Then there is the question of what more Magento 2 can do. And we remain indebted to the long list of points. The following arguments remain: new technology, security and further development. That is not a small amount, but for most people it is not enough to change.
The community was and is uncertain. I also have a hunch that the willingness to learn isn't as great as Magento had hoped. The developers have to go along with it and flag somewhat. A system this complex is nothing without people who can maintain it. However, I am convinced that many will join; it promises to be a good system and if we open ourselves up to it, I am sure it will also be fun (if we abstain from Knockout.js).
Joshua Warren asks himself how Magento will progress in 2017 and what he expects from Magento Inc., which is well worth a read.
http://www.joshuawarren.com/blog/2017/1/5/magento-2-in-2017-hows-things
And Karen from Webshopapps also lists what she sees as the most important points for Magento to concentrate on:
1. Troubleshooting, 2. Levelling off the learning curve and simplifying Magento, 3. More training content, 4. The marketplace, 5. Practicing what one preaches. Here, not only is it worth reading the articles, but also looking at the comments at the end:
http://webshopapps.com/blog/2017/01/what-magento-should-spend-some-of-that-250m-on/
OVERVIEW OF 2017
It will be Ben Marks' birthday again in 2017 and in April Ben and Tracey will be celebrating another wedding anniversary.
Magento 2 will also be three years old.
Don't miss the MageUnconference 2017 in March in Cologne. Here, Ben will be scribbling your questions again on digital paper and giving you some answers, while Tracey will be at the "Ur-Kölner" brewery trying to avoid rogue beer glasses, and the importance of Magento 2 on the day's agenda will be decided by the people who are there. So, you had better come along and help define 2017…
According to a survey, the color for 2017 is yellow.