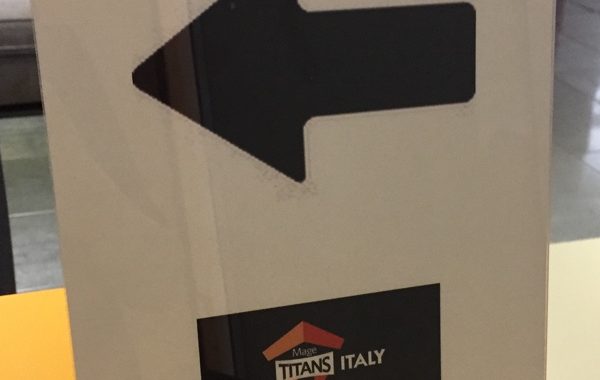 [BLOG] Recap of the MageTitans Italy 2017 in Milan #mageTitansIT
MageTitans Italy 2017 – the moment I got off the plane, I smelled Italian air (heat, pizza, gasoline, parfume,…). Belgium is a wonderful city – Italy also.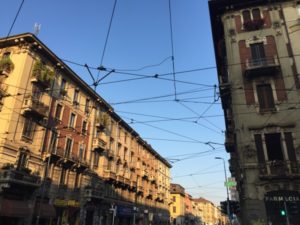 So I want to say thank you to Andra and Alessandro – not only for having me there at the MageTitans, but also for giving me the chance to spend a few days in Italy. I walked about 15 k per day and saw (and smelled) a lot of Milan.
The MageTitans is different from all the others conferences. It lasts only one day (what I liked, because I could spend the Sunday with my family), has only one track (what I liked, because I must not take a decision whom to listen), is not for mainstream or broad mass (what I liked, because the sessions were highly specialised) and has short talks (what I also liked, because my brain is overfilled after 20 minutes highly specialised topics).
It seems the MageTitans is made for a freelancer like me. There were talks about backend development, frontend development and some new stuff I'll never have enough time for to learn or try out.

Sherrie Rohde talked (very quickly) from my heart about how make the most of Magento events. So true: If you don't know, why you are there and what you want to learn and if you don't want to talk to anyone it's very likely that you'll be disappointed at the end – and not because of a bad organized conference.
John Hughes gave an overview about the Bluefoot CMS – from the point of view from developers. Jisse Reitsma was awake and talked about Dependency Injection in Magento 2. Ioana Marchis showed how to use Magento 2 for B2B Webshops. Sander Mangel (in German this name sounds like a medical phenomenon) talked about Headless Magento. One of those things, I want to try out, but I fear this will never happen because of lack of time.
Riccardo Tempesta build his presentation with ReactJS and talked about ReactJS as a consequence of this (or the other way round). For me this has been a talk I expected on a conference like this and I was happy to hear it, because I didn't understand 100% – or 90% or 80% – I don't know why this makes me happy… I should ask my psychiatrist – or google.
Maria Kern stood behind the "speaker desk" – so nobody saw her lovely dress, what a waste! This also has been one of my favorite presentations, because it has been absolutely positive, clearly and pleasant. I hope, she "caught fire" (I don't know, if this a typical german saying).
Arjen Miedema talked about boxers. After this talk, the audience asked the most questions, I liked this talk very much – also because it has been positive, clearly and pleasant. This talk asked us to look to the future with more confidence and not to be so "affectionate" or "attached" to Magento 1.
Dmytro Nortenko and Alexandra Korniichuk talked about Magento automated testing. And after that, Renato Cason had his first talk ever about enhances performance. I heard Miguel Balparda talk before at the Magento Imagine. He talked about the command line interface of Magento 2 and gave some tips how to use it.
After that I talked and had some fights with my position on the stage to share my experiences of working "alone" and remote as a freelancer.
Finally Tony Brown talked about Varnish, also something, I tried out and failed and it's so good to hear, that I'm not the only one and it's not my fault…
Beside all this talks, there were parties and food and people.
First: the party. The Thursday pre-party took place in a charming backyard which looks like a movie set and we were the actors. Lovely, lovely, lovely. The wine tastes very good and at this day I walked more than 20 k – for this reasons I left a bit to early… In Italy time runs in another way. Slowed down in a pleasant way.
In generel – Italy. Italy is full of chliches. I know that, because I have a cliche radar. The men are wearing suits, in blue, perfectly cut, they don't sit down in the tram, preventing their suit from creasing, wearing glasses, slim, well-groomed three-day beard. The woman are feminin. More beautiful than german woman, because they feel pretty, I guess. Wearing figure-hugging dresses with bare arms and legs, perfect shoes and red lips, smiling. Everyone is talking a bit too loud using arms and hands to underline its emotions.
And everywhere is pizza. Everyone eats pizza. In Germany the dustbins in parks are filled with bottles and BBQ waste. In Italy there were pizza boxes EVERYWHERE. IN HEAPS.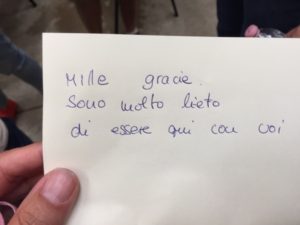 I want to come back. Not only because of this lovingly organized conference, of this kind and open minded people, but also because of the air and the pizza and the coffee and Andra and Alessandro and…